SEARCH
ナビゲーターやDJ、番組名、記事タイトル、文中ワードで一括検索することができます。
注目のキーワード
Copyright © 2011-2021 block.fm
XXXXX XXXXX XXXXX XXXXX XXXXX XXXXX XXXXX XXXXX
XXXXX XXXXX XXXXX XXXXX XXXXX XXXXX XXXXX XXXXX
XXXXX XXXXX XXXXX XXXXX XXXXX XXXXX XXXXX XXXXX
XXXXX XXXXX XXXXX XXXXX XXXXX XXXXX XXXXX XXXXX
XXXXX XXXXX XXXXX XXXXX XXXXX XXXXX XXXXX XXXXX
XXXXX XXXXX XXXXX XXXXX XXXXX XXXXX XXXXX XXXXX
XXXXX XXXXX XXXXX XXXXX XXXXX XXXXX XXXXX XXXXX
Trekkie Trax releases a compilation with Good Enuff: Interview with Mad Decent's Paul Devro
Trekkie Trax collaborates with Good Enuff on a new compilation album featuring Carpainter, Masayoshi Iimori, Foodman, and more.
この記事をシェア
Trekkie Trax, artist collective based in Tokyo, announced their latest compilation "GOOD ENUFF x TREKKIE TRAX Compilation - EP" with Good Enuff- the "baby cuzzin" of Diplo's influential dance imprint, Mad Decent.
The compilation combines 8 songs produced by local Japanese musicians such as Trekkie Trax Crew, Masayoshi Iimori, Carpainter, Foxsky, Lil Texas, and Ryuki Miyamoto with Good Enuff artists such as Nonsens, Rawtek, Akira Akira, Hikeii, KiWi, and Foodman.
I, Seimei, spoke to Paul Devro, A&R of Mad Decent with HVNS from block.fm about multiple topics regarding the label's past and future, and Paul's impression on Japan's local talents and scene.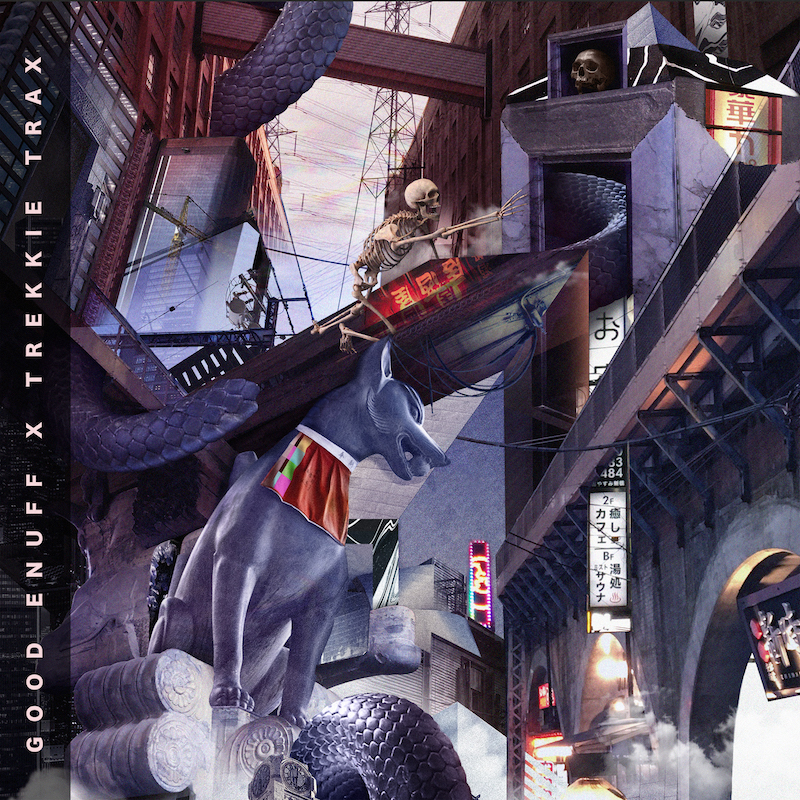 HVNS: Could we get a quick introduction of you and your role at Mad Decent? And what a typical day at Mad Decent is like for you?
Paul Devro: At Mad Decent we're weird about tasks. I kind of do a little bit of everything and it's fun, but I always have people coming to my office. Whether it's about art, a release, or talking to someone from a label. There's just constantly a lot going on.
H: So it's pretty fluid then.
PD: Yeah. You have to be fluid with things.
H: That's interesting because it seems as though that mentality spills over into the music as well. Mad Decent seems to always be pushing the boundaries.
PD: Basically we do what we want to do. But we've never really been about making a lot of money. We just want to do what's fun for us. We don't really care about being a big EDM label. We're not funded by Diplo and we just do everything ourselves. So we just fuck around and see what happens.
H: I think that shows in the music too. It feels honest. There's never anything that comes out of Mad Decent that sounds forced.
PD: Thank you. That's just what we've always done.
H: SEIMEI and I were just talking about this earlier, but I'm 26 and he's 25. Growing up, you hear the term "club music". Talking to a lot kids, especially in Japan right now, their first impression of club music is bass-y, dubstep or trap which isn't what we had growing up. I feel like Mad Decent has a really big hand in that as far as creating that culture. What is your take on where dance music is at and where it came from? And what Mad Decent has done for it?
PD: When things were still fidget house, EDM and all about 128 (bpm), I guess we were the place for trap. We would get floods of demos and would listen through thousands of tracks. It's cool that we were the place for that and it's cool that it's still happening now because that started in 2011, I think.
H: Seimei was saying that you're in Japan a lot. Especially because there's a lot of underground music that hasn't been heard overseas, what's your impression on the Japanese music scene?
PD: I've always been a fan of Japanese artists. In the early 90's, if it had a Japanese artist on it, I'd be interested in it. Because Japanese artists don't give a fuck, and it's weird as shit. When I go to Japan, I see that they can really bring their own sound to it. It's really fun and cool.
H: Are there any specific artists?
PD: Definitely Trekkie Trax. Maltine Records. Maltine Records just did a track with Nagi Nemoto. She's really cool. I also like Tomggg, tofubeats, and Pa's Lam System. And of course, Foodman.
H: That was really surprising because it was right when Good Enuff just started and the first
Japanese artist to release was Foodman.
SEIMEI: Everyone was talking about it. How did that happen?
PD: I hit him up before we even released Good Enuff Records and told him that I need to do a couple of records with him.
H: How did you come across his music?
PD: I just came across his Soundcloud a couple of years ago. His music is insane. When I heard it, I thought that it encapsulates what Good Enuff is.
H: So how did Good Enuff come together? What's the original idea behind it and the concept behind it? I know that you guys were doing free downloads at first, but now you're doing more traditional releases.
PD: On Mad Decent, there's a big roll out on all of the releases that we do. And it only really works with the American audience. Good Enuff is a place where we can put out music that we really believe in, but put it out and do a proper roll out with. With Mad Decent, we can't put out anything weird because it's mainstream now.
H: So the slightly more experimental stuff, underground stuff is for Good Enuff, but the roll out plan is the same as Mad Decent.
PD: Yeah, most of it is the same. Like the same people work underneath, but personally I think it's cooler shit.
H: Do you have your hands in the visual and marketing aspect of all of this too?
PD: I guess you could say so. For all of the Good Enuff stuff, we have this guy Axel and I'll just tell him to go wild. When he comes back with something, We'll just tell him to fix things from there or add something here. For the "KICKIN UP" video, he gave us two different videos. And then I'd be like, "Maybe add more sushi" or "Can we make this sushi fly through space" or "Can we make the fish go in and out". So we all come together for that. Everything is done with limited time, but we really do
make it the best we can with that time.
H: It's a new thing to try and introduce a Japanese artist to an American audience. Are there any challenges you face when doing that?
PD: I feel as thought the audience these days is global. I don't really think of it as doing it for an American audience unless we're doing shows. I think people will gravitate what they gravitate to. With Foodman, he put up a song on his Soundcloud four months ago, and Pitchfork just reviewed it randomly. It's all random, so you can't really plan. It's really hard to blow up Asian artists in America, but 88rising are doing a good job of that. I feel as though people should be looking to them for doing the bare minimum of a feature.
S: They're really pushing the boundaries.
H: As for what's been reaching America content wise, 88rising is killing it. Speaking locally, in Tokyo, I would say Trekkie Trax has the most reach. How did you come across Trekkie Trax and their music?
PD: I'm not so sure. I think I saw someone like their stuff or a repost. Djemba Djemba?
S: Yeah. Paul sent me a message with google translated Japanese and mentioned Djemba Djemba. That was almost 2 years ago. From there we realized that our friends Foodman and KiWi have been on the label, and we were looking for ways to send demos too. But luckily, we got an email from Paul and that was the beginning.
H: Oh, so you already wanted to send music over. Then Paul reached out.
S: Yeah, definitely. We're really into Mad Decent and it was during that Fidget House era. And Electro House was really big in Tokyo. When Good Enuff started, it was something that I really wanted to do. It was really similar to what we want to do with Trekkie Trax, so I was happy when he reached out.
H: So it's going to be a Good Enuff and Trekkie Trax compilation. What was the process like picking out songs and going back and forth? I know that Seimei is curating a lot on the Japanese side, but Paul, what are you doing for your side?
PD: It was really easy to put it together, because we knew exactly what we wanted and what you hear is what I was hoping for. We want to and try to do an artist collab every quarter or twice a year, but it was really natural to do one with Trekkie Trax. In 2014, I tried to do a Jefferee's meets Japan mix, but it didn't work because everyone was everywhere. With Trekkie Trax, we knew that Seimei had a pretty solid infrastructure and wanted to do cool shit. It worked out really well.
S: What I did was send Paul a bunch of demos of some Japanese artists. Then Paul linked each artist with another like Masayoshi with Rawtek. He built a structure for the compilation, and I was super happy that everything worked out. But that's what I did with Nonsens and Rawtek as well. All of these collabs, ended up working pretty well. It was a really natural process.
S: The really good thing about Nonsens is that we had already met in LA when Trekkie Trax played at "Brownie and Lemonade" last year. We invited the Nonsense people to come, and they came. Since then, we've been contacting each other and sending music interactively. So it was natural to make a song together. As for Masayoshi and Rawtek, it was kind of similar. I don't think they've met in person, but they both like each others music and Paul knew about that too so it was a perfect connection.
H: The compilation is dropping on the 27th, right? I listened to it and it's a really interesting combination of really club-y, really energetic music. Then there's Foodman in there who brings in a really interesting, experimental beat. And KiWi as well. He did a Diplo and Friends mix which is huge for a Japanese artist, so I was wondering how you came across his stuff.
PD: I fuck with KiWi so hard. People should hear that shit. Who wants to hear new Martin Garrix shit? Like that shit is so boring. And when people listen to it, they think that it's the new Die Antwoord. But really, it's just a crazy Japanese girl and crazy Japanese producer and that trips everyone out.
H: Going forward, do you have any plans in relation with the Japanese scene or with Trekkie Trax?
PD: I want to do as much as possible. I love so many Japanese artists and I want to keep working with them. Pa's Lam System, Maltine, and Trekkie Trax... A quarter of my Soundcloud follows are Japanese artists.
S: There are so many young, Japanese producers who are looking for advice from Mad Decent. Do you have any for them?
PD: Put it on Soundcloud, make it a private Soundcloud that I can stream. Make it sound like nothing else, because I will only give a record about 4 seconds. I can tell when it will sound like another record. Then I'll look at the wave form and then go to the drop and if it sounds like everything else, I just burn it. Just do something so that I know it's not boring. Because I get so many songs that have one part of a song and then another part of a song, but it's not as good as the originals. If you can make something crazy and that blows me away.. That's all that I can ask for.
S: Trekkie Trax gets demos every day too. But I feel as though we've been getting a lot of boring demos.
PD: It's boring, right! Once a week I'll email someone back and ask them if they want to be their own person or if they want to be a follower. Even if you are a follower and become famous, you'll never be happy. Just put out who you really are. Just make crazy shit. If your music is amazing, someone will hear it. Just be yourself, because everyone is making music now.
H: That's really good advice because right now we have the devices to make stuff that's technically high quality. We have Splice, Youtube tutorials, presets, high quality drum samples. You can make things on a technically high level, but is it creative?
PD: The easiest part is the quality. You can just go online and buy something that's already set up for you such as Cymatics. But if you're an EDM producer and you go on Cymatics, what is it that makes you stand out when using sample packs, you know?
S: That's what we as Trekkie Trax care about being original in this global industry. For example, when we get a new artist, I always see if I can imagine the Shibuya Crossing just by listening to their sound. That's my own criteria when listening to demos. Being original and showing your background is crucial for us. That's Trekkie Trax.
PD: I guess major labels look for what can be the biggest record and we look for the opposite. If it sounds like something we've heard before we're turned off.
H: And that's what Mad Decent and Trekkie Trax are doing. Doing what others might consider risky, but it's not risky in the sense that you're coming out with something that's honest. In the long run, that's going to have a bigger impact.
S: That's why I'm so thankful that Paul is supporting us. We want to prove ourselves to other parts of the world too.
【Tracklist】:
1. Akira Akira & Lil Texas - Tension
2. Rawtek & Masayoshi Iimori - Mango Beat
3. Foodman - Oyaji Voice
4. KiWi - S·A·G·E
5. Foxsky - Like That (feat. MEAKA)
6. Nonsens & TREKKIE TRAX CREW - Ballistic (feat. Ashnikko)
7. Carpainter - Breakdance (Hikeii Remix)
8. Ryuki Miyamoto - Clap! Clap!
https://www.youtube.com/playlist?list=PLqy68DsdqEADR66pCJ4BLOh9e0J5BpENT  
Written by Seimei. 
日本語版はこちら。
この記事をシェア